I was doing some work on the blog recently and I found myself reading a post called The Beginning – which was the first ever article I posted. What caught my eye was that it was from way back in 2012 when I first found my way into the online world.
Back then I was literally starting from zero. I knew nothing about marketing, I knew nothing about computers and I certainly knew nothing about selling online. For me it's kind of cool to see this post again and some of the older ones and to reflect on where I started to where I am now.
If you told me back then that fast forward a little I would be making my living Selling Digital Products Online, Travel all over the World and have Thousands of Awesome Customers who support me every step of the way I would have said you were crazy!
And it's still kind of hard to believe I did it… and I'm continuing to move forward into even more new and exciting ventures so many years later.
It's so cool that it all started with that One Little Blog Post on this Little Blog.
So with that in mind I wanted to mark the occasion and try and do something special, to give back a little and to help you move forward in your business.
And what I decided to do was start something that I've called Blog Traffic Tribe.
In this Free Step by Step Training I will show you exactly how to Build Your Own High Traffic, Income Generating Blog from Scratch.
It doesn't matter if you are 100% New and Have No Experience, I will walk you through the whole process.
I know how important this Blog has been to me over the years and I'm convinced that no matter what industry or niche you are in, having a professional blog where you can share content and training with your audience is only going to bring good things to your business.
So if that's something you are interested in then by all means sign up and get ready to take action.
Each week you will receive a Special Email from me with the Next Step of the Training. I decided to break it down into weekly chunks because I actually want you to implement what I share and get results. I don't just want you to sign up, get overwhelmed by what's involved and then give up.
So we're going to keep it very Step-by-Step so you can follow along with the training and make progress each and every week.
Some of the things we will cover include :
– How to Get Instant Authority in Your Niche
– How to Kickstart the Traffic Train….and Keep it Rollin'
– How to Actually Make Money from Your Blog
– How to Build a Large Loyal List of Email Subscribers
– What Kind of Blog Posts to Write and How to Do it Fast
….plus too many other tips and tricks to mention here.
To be honest with you…with all the success I've had over the years with this Blog I could easily put this training together with a nice Case Study and sell it but I have no interest in doing that.
My business is going from strength to strength and I just want to deliver this training in Blog Traffic Tribe to help you kick-on and make some progress in yours.
Maybe I just want some Good Karma to come my way from the Universe, who knows, all I know is that this training is Totally Free and something that I will be putting a lot of effort into to make sure you see results.
All you need is 20 minutes per week to work through the Steps I Share and try to post on your blog at least twice per month. If you can do that then I guarantee when you follow the Training I deliver each week in Blog Traffic Tribe you will be on the Fast Track to your own High Traffic, Income Generating Blog in no-time!
All I ask in return is that you take little baby steps of action each week, stay consistent with your efforts and help spread the word by sharing the Tribe with your friends – because as you'll see when you get started, the Stronger the Tribe the Better it is for Everyone.
So if you're interested in joining then click the image below to get set-up and Access the Training for Week 1.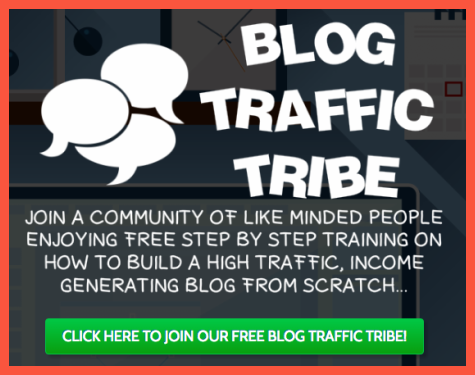 I'm actually really excited by this and look forward to helping you build your own successful blog. It's going to be a lot of fun and I can't wait to hear about your success when you implement what I show you each week.
As always, thanks for reading!
– Noel.
P.S. Please click a little monster below and share your reaction with others…