Today I'd like to continue my Traffic Series with probably one of the most overlooked, yet valuable forms of traffic generation, authority building and commission friendly methods that I know of.
Free Viral Ebooks
I include this second in the Series as I believe it ties in perfectly with our opening post about Document Sharing.
Just to elaborate for a moment – what is a Free ebook? Well it's simply a short, snappy pdf which you have put together that you submit to Free Ebook Directories. You do not charge for these ebooks and they are free for whoever may wish to download them.
But Why Give Them Away for Free?
I bet a few of you reading this are thinking why the hell would I be recommending you create and distribute an ebook for free, this is a business after all and we all want to make money, right?
Lets take the long-term view of this for a moment. You create your ebook (I'll explain more on this in a minute) and submit to a list of Free Directories, some of these will allow you to upload your file to their server while others will ask you to provide a direct link to the zip file which you host on your own site.
The likely scenario for most of us is that these Free Ebook Directories are getting a lot more traffic than our own sites. Now to increase your own traffic you can spend all your time chasing it through various methods or, as I'm encouraging here, you simply go and "hang out" where the traffic is!
These ebooks which you can quite easily create will act as little workers for you and help drive traffic back to your site through the links which you include in the pdfs. That's really all there is to it – it's not rocket science and it doesn't need to be…but it still works:)
How to Monetize Your Free Ebooks
I recognize that you are giving these ebooks away for free but there is a way to monetize them that will allow you to make easy commissions on autopilot.How? – by including affiliate links to related products in the ebook.
Say for example you are in the "self improvement" niche. During your short ebook you will be giving away tremendous value to your readers (this is a must because you want them to visit your site and become fan/customer of yours) and this provides you with a great opportunity.
You can include a section in the ebook called "Resources" and include your cloaked affiliate links to a couple of recommended products which would interest your readers and compliment what you speak about in the book.
This is not an excuse to spam your readers with offers or seduce them with your sleazy sales copy skills – keep it polite, keep it understated and don't go overboard i.e. 3 highly related offers are a lot more useful than listing every vaguely related Clickbank product under the sun!
Where do You Find Suitable Affiliate Offers?
Well the usual place to start is with Clickbank. This is probably the most well known affiliate network/marketplace on the planet and caters for a wide variety of niches. Others include PayDotCom and Commission Junction.
There are many more such as Digi Results and JVZoo (Update : JVZoo is what I use all the time now)
However the chances of you making affilate sales is greatly increased with the relevance of offer so don't just link to any old garbage here. You can quite quickly and easily find affiliate programs for any product/service you want by simply searching for "Keyword + affiliate program" in Google.
Sometimes the affiliate pages of products are not overtly advertised on their sites but by using the search method which I described above you will quickly find affiliate programs for whatever market you are targeting.
Where to Submit Your Free Ebooks to?
I've included a small list of Free Ebook Directories below, as I mentioned with the Document Sharing sites this list is only the tip of the Ice-Berg and with a little research you could easily increase it ten-fold…But I'm sure you'll agree that there is more than enough to get you going!
http://ebookdirectory.com/
http://e-library.net/
http://ebook88.com/
http://ebookee.org/
http://www.ebookjungle.com/submit.php
http://e-booksdirectory.com/
http://www.feedbooks.com/
http://www.free-ebooks.net/
http://www.getfreeebooks.com/
http://www.howto.co.uk/
http://memoware.com/
http://sharewareebooks.com/
http://thefreesite.com/
http://wisdomebooks.com/
Okay, so we have enough to get you up and running…Now let's move on and start putting all this good stuff together shall we?
Where to Find the Content for Your Viral Ebooks?
If like me you enjoy writing, blogging etc. you will already have a lot of content which you can re-use, edit and publish for your first ebook. Remember these Free ebooks do not have to be novels, I don't want you thinking you have to pen another "War & Peace" here (one of them is enough Lol)
It can be a simple report of 10-15 pages that answers a burning question, a need, a desire that your target audience has. Oh ya, did I mention that you can also use plenty of pretty graphics in your ebook too? You see, all of a sudden it doesn't seem so daunting, these Free ebooks don't have to be very complicated and infact you should enjoy putting them together.
Now, I understand some of you reading this may not be very comfortable writing your own ebooks – but thats okay, we can work around that. You can have the content created and delivered to you…the only downside to this is that you will have to pay a small fee for the privilege.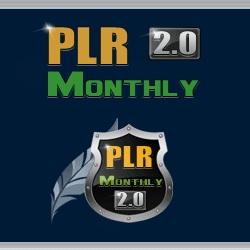 There is a lot of garbage PLR products out there so I must warn you to do your due diligence and check out the vendor before purchasing. I can however recommend one very reputable source called PLR Monthly. This is a professional company which provide you with everything you need from the content, to the graphics, to the sales letters and a first class customer support facility.
Dave Nicholson is one of the guys behind it and if you know anything about Dave you'll agree he only puts out quality stuff. So that being said if you are interested in going down the PLR route you'll be in safe hands with PLR Monthly.
How to Create a Professional Looking Ebook?
When I created my Video Marketing product Video Leadzilla I put the main report together in Mac Pages and exported it as a pdf. That's all my ability would allow, I didn't have any fancy images, no catchy graphics for the pdf – just the bare bones which I was able to put together.
To be honest I'm not a designer and don't have an idea how to put together these stunning looking ebooks that the "gurus" put out – that was until a couple of weeks ago. I got an email from John Thornhill promoting a WSO from Omar Martin.
I never, ever buy WSOs anymore…I could write another blog post on that topic but I'll sum it all up here by saying that I'm often left feeling disappointed after making the purchase.
Enough said, you get my drift 😉
But if any of you are in this game for any length of time you will be familiar with John & Omar (just look them up in Google). Well anyway John never recommends BS in his emails and when I saw the product was by Omar I gladly checked it out. It was an all-in-one product creation system designed to allow anyone to create and sell professional looking, top-of-the-range info products.
I didn't buy it initially but returned later in the week and bought the $37 Mac Daddy Version. You see I have been slaving away on a product I'm working on and thought I could do it all myself…well I nearly did but again the "appearance" of my ebook was letting me down.

Since I know people buy on emotions and images are so important in this process I backtracked and bought Omar's Speedy Profit Creator system. I logged in, watched the tutorial videos and used his software to finish off my ebook in an hour flat. To say I was impressed would be an understatement.
I can't show you the ebook here because I haven't launched the product yet but since then I have been playing around with his software and have re-done my Video Leadzilla ebook, and you can see the difference between the two reports HERE. The content is still the same but I'm sure you'll agree that the newer one is far more appealing and easy on the eye?
Anyway that's enough of that…lets keep this post rollin'
Free Viral Ebooks Just Rock!
I'll let you in on a little secret. I put up a short post on the Warrior Forum a few weeks ago talking about how to distribute your content around the web for free and how to generate traffic, leads, affiliate commissions etc. from it. Well that thread took off and it got a ton of comments and was rated 5 stars (which is the highest on the the WF)
I was pretty pleased with myself because people were interested in what I was sharing and I got a lot of "thanks" from other users. But something strange happened – the thread was Closed. You cannot find it anymore on the forum and I was only able to track it down after searching around in my control panel for a link to it.
No reason was given, I received no notification from the mods and no infringement of any kind… Also, some of my replies had been deleted from the thread, and this got me wondering? Why was it removed? Do they not want people to learn about these things or are they happy to have a dozen newbies each day struggle and ask the same question? Over and over again… I think we all know the answer to that one 😉
So that's why I wanted to share it with you here on the blog and why I went into such detail about this traffic method. Free Viral Ebooks Rock and I think it's something that any of you could become proficient in a very short period of time…
I know this has turned into a long post but let me leave you with a few other idea's to kick this whole system into Overdrive!
give away Rights to your ebook. Allow others to pass it on to their friends, post links to it in forums, share it on social media etc.
contact related people in your niche and offer them the ebook to giveaway as a bonus with any of their products. This is a fantastic way of getting your stuff distributed on autopilot to your target audience. The fact that it is given to them by someone they know will immediately position you as an authority figure to them and someone they will want to check out.
perhaps when revenues increase you could hire an assistant who could take over the running of this for you. Imagine that their sole responsibility would be to re-purpose and distribute the Free Ebooks each week. Get a subscription with PLR Monthly, let them edit the material in Omar's software, add YOUR affiliate links and then distribute around the web.
The possibilities are endless with this method and I hope I have given you a few idea's which you will take with you as you move forward.
I first became interested in Free Viral Ebooks when I bought a Clickbank fitness product which was recommend in one. It's only since then that I learned more about the whole area that I was able to appreciate how powerful it can be.
Anyway this post is hitting 2k words so I'll leave you go and finish up. Please leave a comment below, I enjoy hearing from you guys and appreciate your thoughts.
Cheers & All the Best,
Noel.
P.S. I haven't forgotten about the Big Announcement that I mentioned last week. I haven't been given the go-ahead to unveil it just yet but don't worry you guys will be the first to hear about it when I do!