I often get asked "What's the Fastest or Easiest Way for a Beginner to Make Money Online?"
Usually this comes from someone who is a Beginner and is just getting started online and looking for a Shortcut to Success.
I always try and help people who send me these kind of emails because I can remember when I was new online and there was not a lot of help available to me.
So I send them to my Free Online Blueprint Workshop and tell them to attend the training, take lots of notes and then write back to me with any questions they have.
And you know what? Only a handful of those who ask what's the Easiest Way for a Beginner to Make Money Online will actually take the time to attend the training and then reply to me with their follow-up questions.
These are the people that I love because they've proved to me, through their small action of attending the Workshop, that they are Action Takers and they will take the necessary steps to be successful online.
And the others? Well, who knows what happens to them but my guess is that they continue with their Cycle of Buying Shiny Object after Shiny Object until they max out their credit cards and then give up without ever making any real progress in their online business.
Because the Truth is my friend… Making Money Online Takes Work, and a lot of it.
And if you are someone who Easily Gives Up or falls apart after the First Setback then running an online business is not for you.
And there is nothing wrong with that. We are all talented in our own ways and are good at different things.
So if Making Money Online is not for you, don't feel bad about it and instead Focus on What You Are Good At and don't waste anymore money on Chasing the Magic Push Button Solution – because in my experience it does not exist.
I'm sure we'd both agree that there is a Lot to Learn and a lot of Daily Tasks to do to really make a good living online.
And the only way to avoid all this work is to find someone who can take care of all this work for you and give you a "Done for You" Solution so you can avoid getting lost in all the technical work and go straight to the finish line.
Simply put, you don't want to build the new car all by yourself – you just want someone to give you the keys so you can take it out on the road and drive it home.
And that's where I can help.
No, I'm not going to build you a car because I'm not much of a mechanic.
But what I am good at is Creating Websites and Automated Sales Funnels that have allowed me to make a great living online since 2012.
And what I'd like to do is Build You a Simple 4 Page Website that can Build Your Email List and Make Sales 24/7...
…and all you have to do is Give Away Something for Free and then sit back and let the Automated System that I build for you get to work and run everything for you.
So you can be Building Your Email List and Make Sales while your at work, enjoying some time away on vacation or even while you are asleep.
Now if this sounds like something you would be interested in then Click Below and Watch the Video and I will explain exactly how I can do this for you.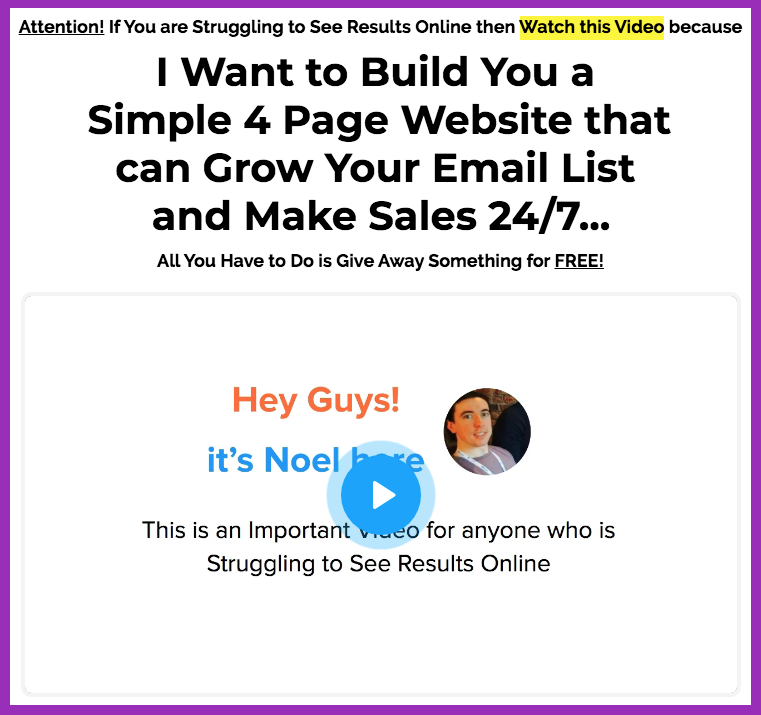 If you have any Questions on the Video you can Email me from right below it by clicking the little Help Icon.
And if you have any thoughts or ideas on this post or what is the Easiest Way for a Beginner to Make Money Online feel free to share them in the Comments below – I'd love to hear from you.
Free Training Invite : If you enjoyed this post and would like to learn more about me and how I make a full time living online then Click Here to Attend My Free Training Workshop!
As always, thanks for reading.
All the Best!
Noel.